24/7 Secure Digital Access

Take advantage of the online services available with your account.
Once you enroll in Online Banking, enjoy the advantages of mobile banking.* The Homebase Credit Union app is available for smart phones and tablets. Download our app from Apple® App Store or Google Play™ Store.
Security you can count on.
With multiple layers of authentication, you won't have to worry about the wrong people getting your information. A personal password and phone activation code keep your information safe.
You decide how you'll use it.
Monitor your accounts using your mobile phone, receive alerts, transfer funds whenever you need to. Request a text message be sent if your balance falls below a certain amount or when your direct deposit check is in your account.
Online Bill Pay lets you pay all your bills in one secure location. No more writing checks or making credit card payments over the phone. With just a few simple clicks, you can pay everyone, from your health care provider to your babysitter.
With Online Bill Pay, you can:
Pay your bill anytime.
Schedule payments in advance.
Stop or change payments anytime.
Schedule payments in advance.
Add any bill quickly and easily.
Save payee information in one secure location.
View your payment history.
Get Started: Click on the "Bill Pay" tab after you've logged in to Online Banking.
Bill Pay Virtual Tour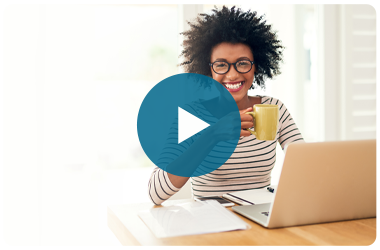 Online Banking Service Agreement
Enjoy the convenience of remote check deposits through our mobile app.*
Before taking the picture, be sure to endorse it by writing: "For E-Deposit Only at Homebase Credit Union" and endorse (sign).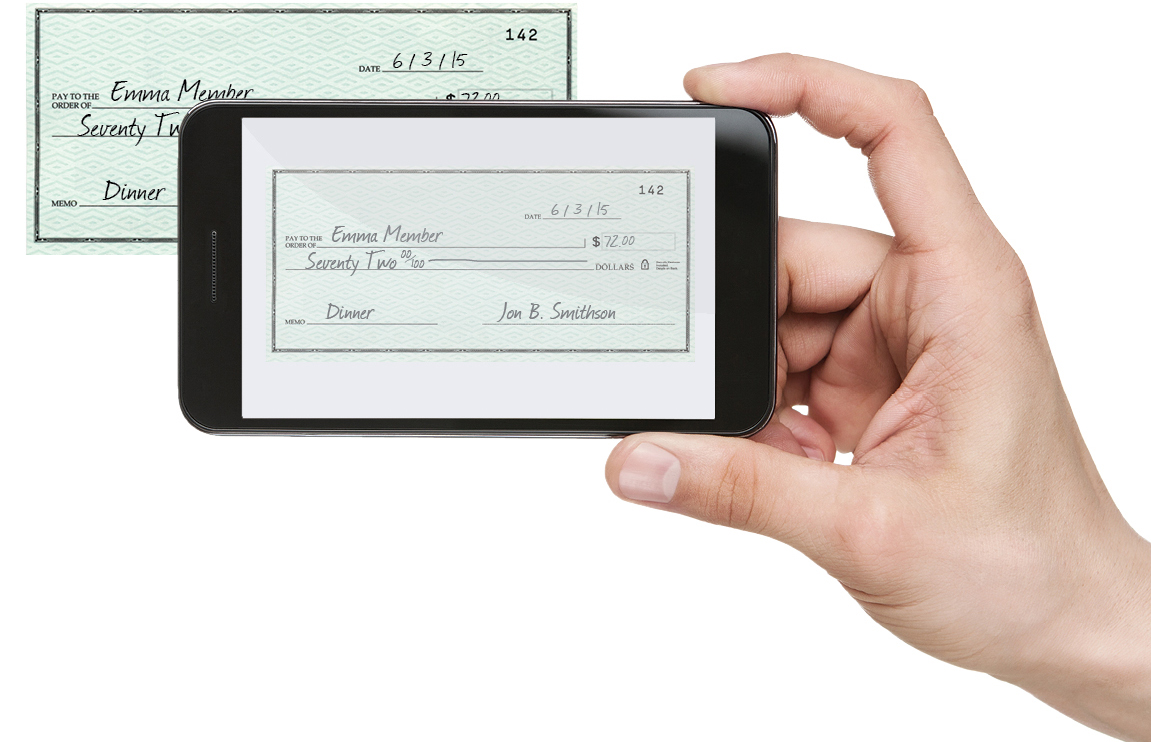 When taking the picture of the check, ensure that:
There is a strong cellular signal or Wi-Fi connection.
All apps that use your device camera are closed.
There is sufficient lighting and contrast between check and background surface.
Check is on a dark surface.
Check image is free of shadows.
If wrinkled, flatten the check before taking the picture.
Check image is clear and all four corners are inside the guide markers.
You will be able to review the picture and retake it if necessary.
Please Note:
The deposit limit is $5,000 per business day (Monday thru Friday by 3 pm, excluding Federal Reserve Holidays).
Checks deposited before 3:00 pm Monday-Friday (except holidays), if accepted, may be available after 6:00 pm on that business day.
Checks deposited after 3:00 pm on Monday-Friday (except holidays) will be processed with deposits submitted on the next business day.
If a longer hold is required, we will contact you.
Please ensure your contact information, including your email address, is updated with us at all times.
Remote Check Deposit Virtual Tour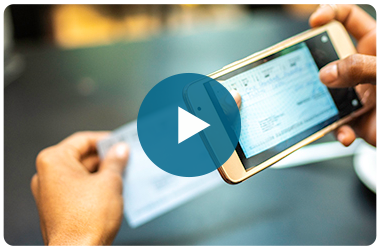 Online Banking Service Agreement
*Carrier rates and fees may apply.
With paperless statements, you get the security and convenience of accessing your statements on your computer.

eStatements give you:
Better security
Faster access
24/7 availability on your computer

Less paper clutter
Sign up for eStatements today!
Click on your Share Account
Click on Online Statements
Making payments is even safer when you use Apple Pay™, Google Pay™, and Samsung Pay®, the industry standards for secure payments. You can add your Homebase Credit Union Visa® debit card or Platinum Rewards Visa® credit card to the mobile wallet app on your device.*
When you complete a transaction using this method:
Your name, card number, and security code stay private.
You don't give your physical card to anyone.
Your device doesn't share your actual card numbers with retailers.
The retailer receives only a transaction-specific code to process your payment (code changes for each transaction).
Mobile Wallet Virtual Tour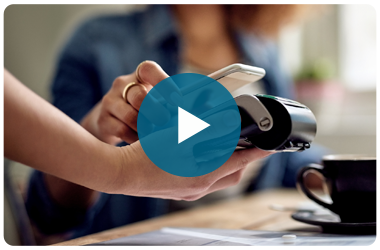 Setting up your Homebase Credit Union debit or credit card on Mobile Wallet is simple. Just follow the instructions in the links below.

Please Note: For additional security, you will be given a number to call to verify your identity and card information during the setup process. You will need to access your account, as you will be asked to provide previous transaction amounts made on that card.
* Message and data rates may apply.
Available wherever mobile wallet payments are accepted.
Apply Pay™ is a trademark of Apple, Inc., registered in the U.S. and other countries.
Android® and Google Pay™ are trademarks of Google LLC. Samsung® and Samsung Pay® are registered trademarks of Samsung Electronics Co., Ltd. Only compatible with select cards, carriers and Samsung devices.
You can now manage your cards directly from the Homebase CU mobile app! Update your Homebase CU app, then tap on "Cards" in the navigation bar. Check out all the card management features, including:

Turn your card on and off
Report your card lost or stolen
View debit & credit card transactions
View credit card statements
View digital card
Reset your own PIN
Set your own travel dates
Card controls and alerts
Get alerts on transactions
Card Controls Virtual Tour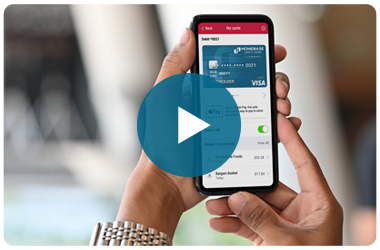 Zelle is a convenient way to send money using your mobile banking app* or online banking account.

Whether it's saving you a trip to the ATM or taking out the guesswork of divvying up the lunch tab, Zelle is a fast, safe and easy way to send and request money. Funds are sent directly to the recipient's account in a matter of minutes, and all you need is the recipient's email address or U.S. mobile phone number.
To get started, enroll your email or U.S. mobile number through the mobile banking app or Zelle app. Then pick someone you want to send money to using their email or mobile number. It's that simple.
Mobilize your money with Zelle.
SEND
Send money fast in just a few steps.
REQUEST
up with roommates, friends and more, regardless of where they bank2.
SPLIT
Easily divide the check for dinner, coffee and more.
Zelle Virtual Tour

*Carrier rates and fees may apply.
"Audi," our convenient automated response system*, is available 24 hours a day, seven days a week. Enjoy conveniences such as:
Make balance inquiries for Checking, Savings & Loan accounts
Verify most recent deposit
Verify latest transaction details on Checking Account
Verify cleared checks
Withdraw by check
Transfer between accounts
Transfer payments to your loans
and more
Local: 804-452-0747
Toll-Free: 1-888-298-6255
*To protect and better serve our members, you will need to have your "PIN" for access.
Online Banking Service Agreement
Use our online budgeting tool, Trends, to integrate your accounts, bills, and assets into one cohesive financial picture. With everything in one place, you have a clear vision and can make and achieve your financial goals.
With Trends you can control your personal finances by:
Setting a budget and keeping your finances in check.
Making plans for the future- may be paying off debt or building up savings, or both.
Keeping track of your assets and debts, and determining your net worth.
How do I access Trends? Log in to your Online Banking and click on the Trends tab.
Trends Virtual Tour

Make External Account Transfers
Easily transfer funds to and from your accounts at other financial institutions.
More Control over your money
An Expansive Network - Make transactions between 15,000 financial institutions via the ACH network, enabling our online banking users to take advantage of a unified, secure and easy-to-use account-to account transfer experience.
Save Time by using automatic transfers
Make one-time transfers, recurring transfers or future-dated transfers.
External Transfers Virtual Tour
---
Need Assistance With Digital Banking?
We're here to help, so reach out today. You can get an immediate answer by phone, or submit a contact request, and we'll email you back.