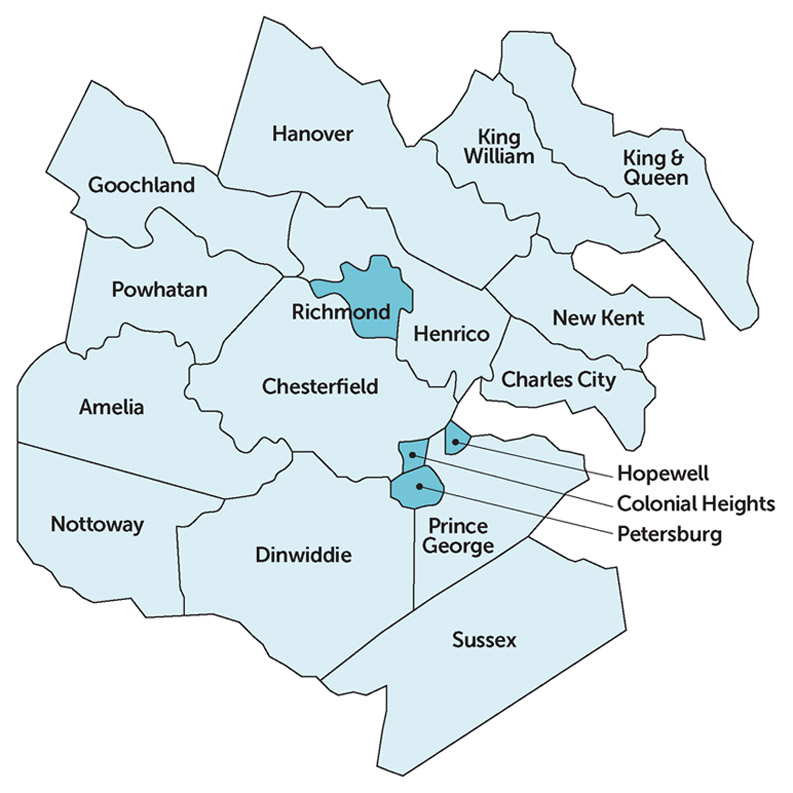 In 2019, we expanded our membership to include the Greater Richmond area. We chose to change our name to better reflect our expanded service area. Our new name makes it clear to eligible members, even those without a connection to Fort Lee, that they are welcome here. Continued growth ensures a healthy, vibrant and thriving credit union long into the future.
Symbol
The two heart shapes represent our legacy and future, connected by the Homebase "H." The shapes also resemble leaves, depicting growth.
Stylization
Capital Letters: show strength, steadfastness
Handwriting: depicts personal connection
Curves: used in our symbol and corners of all letters show empathy, understanding and flexibility

Colors
Deep Red: bold, passionate, heartfelt
Dark Teal: combines calming, trustworthy blue with growth and renewal of green
Gray: timeless, reliable, wise, unbiased
Color Combination: provides a patriotic feel
Frequently Asked Questions
When will the name change take place?
Our name change was announced at our Annual Meeting on April 27. The official change will be effective July 20, 2022. Changes to signage, digital services, and more will take place closer to the July date.
Is Fort Lee FCU changing ownership?
No. Our members are still the owners!
Are the employees, management or Board of Directors changing?
No. You'll still see the same friendly folks at our branches.
Why did you drop "Federal" from your name?
The use of the word "Federal" can lead people to believe they have to be a member of the military or be a government employee. Homebase Federal Credit Union will be our legal name, though we'll simply go by "Homebase Credit Union." We're excited to make our credit union more approachable to anyone within the membership area.
Is Fort Lee FCU maintaining its affiliation with the military?
Yes! We are proud of our history with the military. This change is simply a proactive step towards becoming a stronger financial institution.
Is the credit union's insurance changing?
No, all deposit accounts will continue to be federally insured by the NCUA.
Will the name change be expensive?
Many of the changes will occur over time to manage inventories and best timed to manage the credit union resources. This investment in our long-range vision has been carefully considered and approved by the Board of Directors.
How was the new name selected?
We spent many months working with a joint team of Board, management, and staff under the guidance of an experienced and respected branding agency who specializes in credit unions.
Will the credit union's mission and values stay the same?
Absolutely! Our mission and core values are the foundation of our credit union. They are the heart of who we are and will remain the same.
Our mission: to improve the lives of our members and build a stronger community.
Our promise: to serve with HEART.
Honesty

Empowerment

Advisor

Respect

Teamwork

Will the credit union's contact information change?
All phone numbers and physical addresses will remain the same. We will have a new website address and new email addresses, but the old addresses will still forward to us
Will employees' contact information change?
Our phone numbers will remain the same. We will have new email addresses, but all the old addresses will still forward to us.
Will branch days of operation and hours change?
The branches will continue to be open and available to you the same days and times that you expect.
Will you be opening or closing any branches?
We will not be closing any branches. We have plans to build a new branch in the Chester area in the near future.
Will this affect my member/account number?
The name change will have no impact on your membership as an owner of the credit union or any of your accounts. Your member number or account number will remain the same.

Will Fort Lee FCU debit and credit cards still work?
You can still use your current Fort Lee FCU ATM, debit and credit cards. When the time comes for you to receive a new card it will have the new name and logo.
Can I still use Fort Lee FCU checks and deposit slips?
You can continue to use your Fort Lee FCU checks and deposit slips. When you run out of checks or deposit slips, your new ones will have the new name and logo.
If I have automatic payments taken from my account or receive direct deposit, will I need to do anything?
No, everything will stay the same. Our routing and transit number will not change and your account number will not change, therefore, there are no additional steps or changes you need to make.
Will fees, loan rates and deposit rates be impacted by the name change?
Rates and fees will not be affected by the name change. We will continue to monitor our rates and fees like we always have. Rates and fees do fluctuate, but they are adjusted in response to the market conditions.
Do I need to change the payee or address where I send my FLFCU loan payments to reflect the new name?
After July 20, 2022, loan payments mailed to us should be made out to Homebase Credit Union and sent to the same address you've been using. For payments made to us electronically, no change is necessary since our routing number and your account number will remain the same as they are now.

Do I need to change the Credit Union's name at my other financial institution/s for automatic payments made to FLFCU?
After July 20, 2022, may wish to update our name at your other financial institution(s), but it's not necessary since our routing number and your account number are not changing, and these numbers determine where your payment is directed.
What will the new website address be? When will it change?
Our new web address will be Homebasecu.org. The new site will launch in July 2022. For a time, the fortleecu.org address will redirect to our new site.
Will Online Banking change, and will I need to download a new mobile app?
In July, our website, Online Banking, and our mobile app will be updated to reflect the new brand. While the colors will change, you'll still be able to do everything you currently can in Online Banking. You will need to make sure you have the latest updated version of our mobile app.
Will I need to save a new Favorite/Bookmark shortcut to the website?
Yes. In July, we'll be changing the website address to reflect our new name. In the short term we'll have automatic redirects from our current web page addresses, but you should update your bookmarks with the new website addresses.