5 Star Rewards Checking
Make more with every swipe.

5-Star Checking isn't just a place to put your money, but a destination for dividends and rewards. You could enjoy monthly bonus payouts, loan rate discounts, and even an overdraft fee refund every year. Once you meet all 5-Star requirments, you'll never want to switch checking accounts again.
Check out the benefits and features of 5-Star Rewards Checking below and see how it compares to our Share Draft account.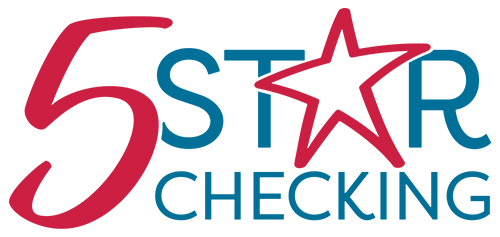 Checking Account Benefit Comparison
| Benefits1 | Share Draft | 5 Star* |
| --- | --- | --- |
| No Monthly Maintenance Fee or Minimum Balance | ✓ | ✓ |
| Surcharge-Free ATM Usage2 | ✓ | ✓ |
| Free Online & Mobile Account Access 3 | ✓ | ✓ |
| Free Use of Electronic Bill Pay | ✓ | ✓ |
| Free Online Budgeting and Finance Program | ✓ | ✓ |
| Unlimited Transfers from Savings to Checking to Cover Overdrafts for No Charge | ✓ | ✓ |
| Initial $25 Bonus Payout4 | Not eligible | Meet all 5 Star qualifiers to earn reward |
| Monthly $2 Reward Payout5 | Not eligible | Meet all 5 Star qualifiers to earn reward |
| Earn Monthly Dividends on Your Average Daily Balance5 | $300 average daily balance required to earn dividend | Meet all 5 Star qualifiers; No minimum balance required to earn dividend |
| Loan Rate Discount6 | Not eligible | ✓ |
| Overdraft Fee Refund (one per year)5 | Not eligible | ✓ |
What You Need to Open a 5-Star Rewards Checking Account
Membership with Homebase Credit Union
Your name, date of birth, and address
Your social security card or number
Your photo ID
Name, social security number, date of birth, and address for any joint account owners
Fulfill eligibility requirements (read more below!)
---
5-Star Checking FAQs
Q: What are the five easy qualifiers for 5-Star Checking?
A: To enjoy the benefits of 5-Star Checking, meet these 5 requirements:
Register for online banking

Enroll in E-statements

Direct deposit at least $200 per month into your 5 Star Checking account




Pay two monthly bills our Bill Pay system or ACH



Use your debit card for purchases at least 12 times per month7
Q: When are reward bonuses paid out?
A: Reward points, bonuses, and other refund payouts are auto-deposited into your 5-Star Checking Account on the third day of the month following the rewards period. January rewards would be paid in February; February rewards will be paid in March, and so on.
Q: Who is a good fit for 5-Star Checking?
A: The 5-Star account is a great option for busy and active checking account users. If basic accounts no longer serve your needs best, reward yourself with additional benefits and high dividends through 5-Star Checking.
Member Testimonials
See what Homebase Credit Union members have to say about us:
"I have been with Homebase Credit Union for almost 2 years. They have been great in all respects. Had a loan with them and was very satisfied. They were always very nice and personable. The local branches are conveniently located and safe at night. I can't say enough nice things. Thanks!" -Omar D.
"I started a joint account for my son and I so he could direct deposit and I could cash checks from work. From the start of our account they have been super courteous and helpful. The other day I asked for a large sum of money all in $1 bills and the teller patiently counted out all of them to me. I love this bank and the people who work there!!" - Bobbie B.
---
Open a Checking Account Today
Let the perks, benefits, and features of a 5-Star Checking Account sweep you off your feet. Get started with Homebase Credit Union today.

Already a member?
Log in to Online Banking to open a new account!
Not a member?
Mobile Banking

Enjoy 24/7 secure online access to your accounts! Check balances, view transaction history and transfer funds from one account to another.

Mobile Banking Details >

Overdraft Protection

Life happens! Homebase Credit Union understands that unexpected overdrafts occur from time to time — Overdraft Coverage can help.

Overdraft Protection Details >

eStatements

Make your life easier with eStatements and help to conserve our planet's resources!

Learn More About eStatements >